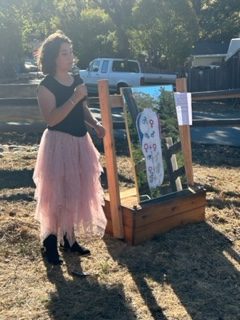 Over the years, the 7th grade class at Lagunitas Middle School has had a project called the Monument Project organized by their Social Studies teacher Katherine Sanford. For their class, they have written speeches and made monuments on something that is either very important to them or has affected them in some way. Their monuments stayed at the Central Park in Woodacre. 
On Sunday, October 15, the 7th grade class presented their Monuments. They have been working hard to make an impact on something that is important to them. They have done a lot of research on it, written a speech about it, and built different monuments to represent their issue. There were many different topics and some very impactful speeches. I remember how hard I and a lot of people in my class worked and saw that many of this year's 7th graders worked well throughout the beginning of the school year. It was fun to see many of the monuments and hear about what they had chosen to spend the beginning of their year writing about and see the big impact that can come from something small.
A few of the presentations that I felt were very well done were Ileana's about supporting the lgbtq+ community, and Kalaya, Dylen, and Mabel's about body image and positivity. I felt like Ileana's monument about supporting the lgbtq+ community was very well presented and something that many people all over the world go through. There were many other very well-done monuments but those ones stood out the most.  Kalaya said "It was a good experience working with different people about a subject you feel is important," about her experience working on the Monument project.
I believe that this project is a good learning experience because it teaches you to write a speech about something you genuinely care about and helps you learn to improve your memory and writing skills. I also think this sparks a lot of creativity and artistic skills the students didn't know that they had.